Why is Jon Huntsman running to the political middle?
GOP presidential candidate Jon Huntsman is making statements that appeal to moderate Republicans. Is this a good idea during the primary season?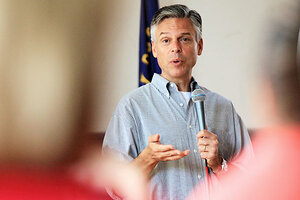 Cheryl Senter/AP
Jon Huntsman is going GOP rogue - by being moderate.
The former Utah governor and US ambassador to China has used his Twitter feed, his appearance on ABC's Sunday political talk show "This Week," and a profile in Vogue magazine to take shots at the rest of the GOP presidential primary field.
That's nothing new for the GOP primary field. What's unique is that he's hitting his opponents from the political middle.
It's telling that the Democratic National Committee blasted out a sort of "greatest hits" e-mail of Huntsman's ABC interview to supporters, including these nuggets:
"The minute the Republican Party becomes the party, the anti-science party, we have a huge problem. We lose a whole lot of people, who would otherwise allow us to win the election in 2012 when we take a position that isn't willing to embrace evolution, we take a position that basically runs counter to what" many climate scientists have argued.
To a question on trusting Michele Bachmann's plans for the US economy: "I wouldn't necessarily trust any of my opponents who are on the recent debate stage with me when every single one of them would have allowed this country to default."
"We have people on the Republican side too far to the right. We have zero substance. We have no good ideas that are being circulated or talking about that allow the country to get back on its feet economically so we begin creating jobs."
---
Follow Stories Like This
Get the Monitor stories you care about delivered to your inbox.