Hurricane Irene strengthens to Category 3 over Bahamas
Hurricane Irene now has winds in excess of 111 m.p.h. over the Bahamas. Will it get to Category 4 before reaching the East Coast?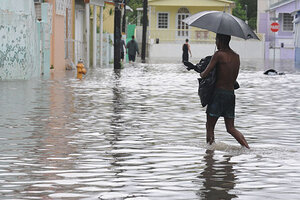 TONY ZAYAS/Nuevo Dia/Newscom
Hurricane Irene strengthened to a major Category 3 storm over the Bahamas on Wednesday with the East Coast in its sights.
Irene's maximum sustained winds increased to near 115 mph (185 kph) with additional strengthening forecast, the U.S. National Hurricane Center in Miami said.
Federal officials have warned Irene could cause flooding, power outages or worse all along the East Coast as far north as Maine, even if it stays offshore. The projected path has gradually shifted to the east, though Irene is still expected to make landfall as a major hurricane in North Carolina sometime over the weekend. It is then expected to continue trudging northward.
Speaking Wednesday on ABC's "Good Morning America," Craig Fugate, head of the Federal Emergency Management Agency, said people as far north as New England should be ready for the storm. When asked about concerns preparing the Northeast for a hurricane, which is uncommon in that part of the country, Fugate cited Tuesday's earthquake that rattled the East Coast.
"It's a reminder that we don't always get to pick the next disaster," Fugate said.
---