Vermont battles record-setting floods in the wake of Irene
Tropical storm Irene left Vermont with some of the worst flooding since 1973, perhaps longer.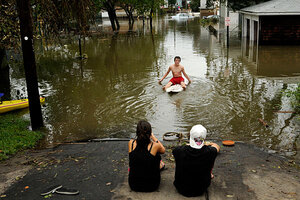 ZUMA Press/Newscom
Vermont residents battled epic flooding Monday after the remnants of Hurricane Irene set off the state's worst flooding in nearly 40 years, washing out roads and knocking out power.
At least one person was killed after being swept into a swollen river in the mountainous, land-locked New England state, which rarely sees tropical storms.
Homes and businesses were flooded after 7 inches of rain from Irene, which had been reduced to a tropical storm by the time it reached Vermont on Sunday. Floodwaters gushed through downtown Brattleboro, an artsy community of 12,000 along the Connecticut River.
At least one of the state's historic covered bridges was washed away as Irene's rains sent rivers spilling over their banks.
Governor Peter Shumlin called the flooding catastrophic and several people had to be rescued. Some 50,000 people are without power, officials said Monday.
Shumlin ordered state offices closed on Monday and urged Vermont residents to stay indoors and off the roads as emergency crews approach the worst hit areas in Rutland and Addison counties in the south and middle of the state. Many businesses in Brattleboro and other cities and towns remained closed on Monday, local media reported.
Weather reporters said the flooding was the worst in Vermont since 1973 and perhaps since 1927.
---