Mitt Romney surges in N.H., but No. 2 Ron Paul gets no media love
Mitt Romney jumped to a big lead in the latest New Hampshire poll. Ron Paul came in second, and Jon Huntsman's numbers rose for the first time.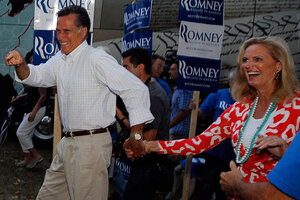 Brian Snyder/Reuters
New polling data shows Mitt Romney cruising in New Hampshire, with nearly quadruple the support of Jon Huntsman, the GOP candidate in third place. Wait, why'd you skip to the third place guy? Who's in second?
Texas Congressman Ron Paul, of course.
Even though Huntsman and Paul both gained the same amount (six percentage points) since the last Suffolk University poll in June, and Paul has 14 percent support to Huntsman's 10 percent, Decoder isn't seeing any media love being thrown Paul's way this morning.
This, despite the fact that the canned, ready-to-be-quoted bit from the Suffolk press release gives equal billing to Paul's improvement alongside Huntsman's.
"Mitt Romney is saying 'get out of my back yard' and making New Hampshire his strong firewall despite showing some weakness in the other states' early primaries," said David Paleologos, director of Suffolk University's Political Research Center. "The anti-Romney candidate at this point could be either Ron Paul, who has polled consistently over the past year, or Jon Huntsman, whose numbers are really growing in the Granite State."
---