Troy Davis supporters gather around the world to protest, mourn
Troy Davis was given a lethal injection Wednesday, despite protests around the world.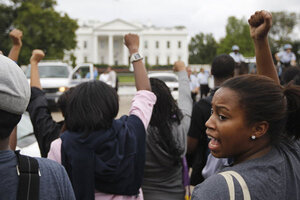 Charles Dharapak/AP
From outside a Georgia prison to a public square in France, hundreds who believe an innocent man was about to be put to death congregated Wednesday to protest, knowing that Troy Davis had nearly run out of options to stop his imminent execution.
Davis' supporters included celebrities and other well-known figures, such as the Rev. Al Sharpton, who was outside the prison in Jackson, home to Georgia's death row, where the crowd swelled to more than 500 by the time Davis was executed.
"I feel a mixture of outrage and sadness, sadness because we may lose a life of someone who's not been proven to be guilty," Sharpton said before Davis was given a lethal injection at 11:08 p.m. Wednesday.
Davis, 42, was executed for the 1989 slaying of Mark MacPhail, a Savannah officer killed while working off-duty as a security guard. MacPhail was rushing to help a homeless man being attacked when he was shot.
Davis insisted he was innocent until the very end. Still, the courts repeatedly upheld his conviction.
Davis has gained hundreds of thousands of supporters who hoped the courts would intervene to stop what they believe is an injustice one more time.
---