Government shutdown avoided after disaster relief vote
The Senate voted to fund the government through Nov. 18, after the latest stand-off between House Republicans and Democrats over disaster relief.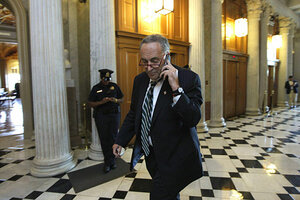 J. Scott Applewhite/AP
Ending weeks of political brinkmanship, Congress finessed a dispute over disaster aid Monday night and advanced legislation to avoid a partial government shutdown only days away.
The agreement ensured there would be no interruption in assistance to areas battered by disasters such as Hurricane Irene and last summer's tornados in Joplin, Mo., and also that the government would be able to run normally when the new budget year begins on Saturday.
The Senate approved the resolution after a day of behind-the-scenes talks and occasionally biting debate, spelling an end to the latest in a string of standoffs between Democrats and Republicans over deficits, spending and taxes. Those fights have rattled financial markets and coincided with polls showing congressional approval ratings at historically low levels
The breakthrough came hours after the Federal Emergency Management Agency indicated it had enough money for disaster relief efforts through Friday. That disclosure allowed lawmakers to jettison a $1 billion replenishment that had been included in the measure — and to crack the gridlock it had caused.
The Democratic-controlled Senate approved the measure on a bipartisan vote of 79-12, sending it to the Republican-controlled House for a final sign-off.
There was no immediate comment from House GOP leaders, although their approval for the measure seemed a mere formality after the party's Senate leader agreed to it.
---