Hank Williams Jr. says his free speech rights violated in Hitler comment
Hank Williams Jr. says he left Monday Night Football for violating his free speech rights. ESPN says Monday Night Football doesn't need Hank Williams Jr. anymore.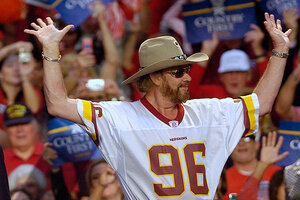 AP Photo/Gary C. Knapp
Who fired whom? Does it matter?
Hank Williams Jr. cited his First Amendment rights to free speech as grounds for his official and permanent departure from Monday Night Football.
ESPN issued its own statement Thursday, thanking Hank Williams Jr. for his contributions to Monday Night Football, but they will part ways.
The network had pulled the song from the game Monday night after Williams made an analogy to Adolf Hitler while discussing President Barack Obama on Fox News on Monday morning. Williams later apologized for the remark.
"After reading hundreds of e-mails, I have made MY decision," Williams said in a statement to The Associated Press. "By pulling my opening Oct 3rd, You (ESPN) stepped on the Toes of The First Amendment Freedom of Speech, so therefore Me, My Song, and All My Rowdy Friends are OUT OF HERE. It's been a great run."
But ESPN's statement said: "We have decided to part ways with Hank Williams Jr. We appreciate his contributions over the past years. The success of Monday Night Football has always been about the games and that will continue."
Spokesman Kirt Webster said Williams made the decision Wednesday night, while the network said it informed Williams of the move Thursday morning.
Regardless of whose call it was, one of sports' and entertainment's most visible partnerships is over. The song had been a "Monday Night Football" staple since 1989 and survived the game's switch of networks from ABC to cable a few years ago.
---