Hank Williams Jr.: His latest song slams Fox News and ESPN
Hank Williams Jr., in a new song, says Fox twisted his words. Last week, ESPN fired Hank Williams Jr. for likening Obama to Hitler.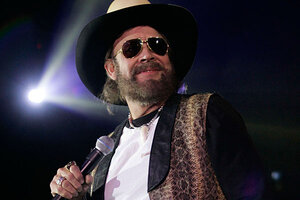 REUTERS/Kyle Carter/Files
Hank Williams Jr. is getting the last word.
Williams' has cut a new song, "Keep the Change," where he attacks the Fox News and ESPN. Why those two TV networks?
Last week, Williams did an interview on the Fox News talk show where he compared President Barack Obama to Hitler. After that comment, ESPN decided to pull the Hank Williams Jr. theme song "Are you ready for some football?" from "Monday Night Football."
Williams and ESPN parted ways on Thursday.
Williams is scheduled to appear on "The View" and "Hannity" today to discuss the uproar that sprung up after he made an analogy that Obama and House Speaker Rep. John Boehner golfing together was like Nazi leader Adolf Hitler and Israeli Prime Minister Benjamin Netanyahu playing a round.
Williams' comments last Monday drew unlikely reactions with many commentators and comedians coming to his defense, claiming ESPN was infringing on his right to free speech. His defenders included the left-leaning Whoopi Goldberg and Joy Behar of "The View" and Jon Stewart of "The Daily Show" and on the other side of the political landscape former Republican vice presidential candidate Sarah Palin and conservative commentator Rush Limbaugh.
---