Zuccotti Park to be cleaned up and Wall Street protesters cleared out
Zuccotti Park has been occupied by Wall Street protesters for the last four weeks, but in a sudden turn of events they will have to vacate the park tomorrow morning and will not be allowed to return with their sleeping bags, tarps, tables, or other gear.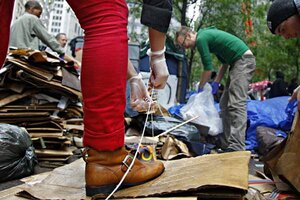 Bebeto Matthews/AP
Protests against corporate greed and corruption are spreading across the United States into Canada and the United Kingdom, just as the New York demonstration that started the movement faces a crackdown by its unwilling landlord.
The owner of the private park where "Occupy Wall Street" protesters have been camped out for nearly a month in lower Manhattan gave notice Thursday that it will begin enforcing regulations that prohibit everything from lying down on benches to storing personal property on the ground.
New York Police Commissioner Raymond Kelly said that protesters can remain in the park after the cleaning but will not be able to use the gear that has allowed them to sleep, eat and live in the park.
"After it's cleaned, they'll be able to come back, but they won't be able to bring back the gear, the equipment, sleeping bags," Kelly said. "That sort of thing will not be able to be brought back into the park."
The landlord, Brookfield Office Properties, handed out a notice to protesters saying they would be allowed back inside after a planned park cleanup on Friday morning if they abide by park regulations.
The notice said the the 12-hour, section-by-section cleaning is slated to begin 7 a.m. Friday (1100 GMT) and is part of daily upkeep, and that conditions have deteriorated in recent weeks because that upkeep was put on hold by the protesters.
---