What's new in the GOP jobs plan?
Republicans are countering President Obama's jobs plan with a GOP jobs plan. But how much of the GOP jobs plan is really new?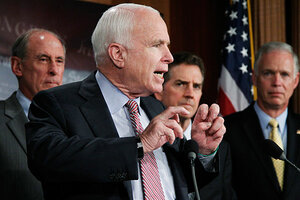 AP Photo/Manuel Balce Ceneta
Republican Senators have had enough of President Obama wagging his finger at them for lack of a jobs plan.
As such, Senators John McCain (Ariz.), Rand Paul (Ky.), and Rob Portman (Ohio) unveiled the "Jobs Through Growth Act" yesterday. So what's in it?
First, it's important to note that the bill is four pages long and 3.5 of those are filled up with legislation already introduced by GOPers in either the Senate or the House. As such, it isn't so much a passel of new proposals as it is an endorsement by the Senate Republican caucus of their best ideas. There's not very much that's "new" but what is "new" is that Senate Republicans are putting their imprimatur on a specific package of legislation.
As POLITICO's Manu Raju writes:
"Senate Republicans are taking on a risk by putting their ideas in legislative language. They could open themselves up to criticism from Democrats if official budget scorekeepers show that the price tag could drive up the deficit and if economists are dubious on whether it would actually create jobs…

In proposing legislation in painstaking detail, Republicans in the Senate are diverging from tactics Minority Leader Mitch McConnell employed during other major policy fights. While individual Republicans have offered specific bills, the overall GOP conference has studiously avoided getting behind a detailed set of policy ideas — even during hugely consequential fights like over health care reform"
---