Exotic animals ban: Will ban be revived after Zaneville, Ohio tragedy?
Ohio is one of seven states with no restrictions on exotic pets. There are fresh calls for restrictions on owning exotic animals, but strong opposition too.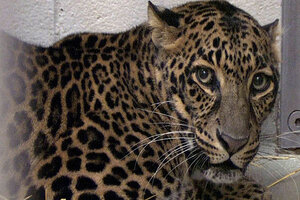 AP Photo/Columbus Zoo and Aquarium, Grahm S. Jones)
Animal welfare groups pleaded on Thursday for tighter restrictions or a ban on private ownership of exotic animals after a panic in Ohio this week when scores of dangerous beasts were set loose.
Police hunted down and killed dozens of lions, tigers, bears, and primates set loose from a private menagerie on Tuesday by owner Terry Thompson, who then killed himself.
"This latest incident simply puts an exclamation point on our call to stop the private ownership of dangerous, wild animals as pets or roadside attractions," Wayne Pacelle, president and CEO of The Humane Society of the United States, said in a conference call.
"These animals do not belong in people's backyards or bedrooms or basements," Pacelle said.
Seven states, including Ohio, have no ban on owning exotic animals. The others are Alabama, Nevada, North Carolina, West Virginia, South Carolina and Wisconsin.
---