Statue of Liberty birthday celebrations include Sigourney Weaver, 'La Marseillaise,' and 125 new Americans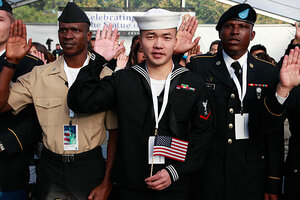 Mark Lennihan/AP
She arrived in the United States from France 125 years ago, and has welcomed her fellow immigrants ever since.
And although far fewer people literally sail past her on their first arrival to U.S. shores, much was made of her enduring symbolism at a ceremony on Friday marking the 125th anniversary of the Statue of Liberty's dedication.
Hundreds of people took ferries across New York Harbor to Liberty Island on a cold but sunny Friday for the celebration in the statue's shadow.
It began with a naturalization ceremony for 125 immigrants from more than 40 countries, who would leave the island as U.S. citizens.
"If you look in the visitors' faces when they come over here you know they got the name right," David Luchsinger, the National Park Service's superintendent of the statue, said in a speech, referring to the statue's proper name: 'Liberty Enlightening the World.'
"It's such a simple and profound statement," he said. "It tells us that every human being on this planet deserves the same rights and freedoms."
Ken Salazar, the Interior Secretary, said the statue was a reminder that "liberty itself is a work in progress."
He pointed out that unaccompanied women were banned from attending the original dedication ceremony, and were forced to watch from a boat floating a short distance offshore.
"We have come a long way and we celebrate that today," Salazar said, "but we also acknowledge and recognize that we have a long way to go."
---