Game 7 win, World Series goes to Cardinals
Game 7: the St. Louis Cardinals won Game 7 to take home the World Series Commissioner's Trophy.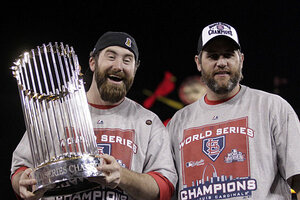 Charlie Riedel/Reuters
Pushed to the brink, the St. Louis Cardinals saved themselves. A frantic rush to reach the postseason on the final day. A nifty pair of comebacks in the playoffs. Two desperate rallies in Game 6.
Turns out these Cardinals were merely gearing up for a gigantic celebration.
The Cardinals won a remarkable World Series they weren't even supposed to reach, beating the Texas Rangers 6-2 in Game 7 on Friday night with another key hit by hometown star David Freese and six gutty innings from Chris Carpenter.
"This whole ride, this team deserves this," said Freese, who added the Series MVP award to his trophy as the NL championship MVP.
A day after an epic Game 6 that saw them twice within one strike of elimination before winning 10-9 in the 11th inning, the Cardinals captured their 11th World Series crown.
"It's hard to explain how this happened," Cardinals manager Tony La Russa said.
Following a whole fall on the edge, including a surge from 10½ games down in the wild-card race, La Russa's team didn't dare mess with Texas, or any more drama in baseball's first World Series Game 7 since the Angels beat Giants in 2002.
Freese's two-run double tied it in the first, with Cardinals star Albert Pujols raising his arms as he scored. Good-luck charm Allen Craig hit a go-ahead homer in the third.
Given a chance to pitch by a Game 6 rainout and picked by La Russa earlier in the day to start on three days' rest, Carpenter and the tireless St. Louis bullpen closed it out.
---