National Grid, others expect power outages for days to come
National Grid and other utility companies are reporting more than 200,000 customers in New York without power after an October snow storm downed power lines in the northeast.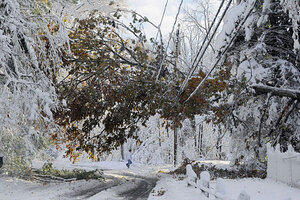 Jessica Hill/AP
An early taste of winter weather brought down tree limbs all over New York and turned off power for thousands, as wet snow from an unusual October snowstorm meant putting down the rakes and picking up the shovels.
Around the state, more than 200,000 customers were without power, most in the hard-hit Hudson Valley region of the state. Consolidated Edison reported almost 69,000 customers were without power in Westchester County, as were about 4,700 customers in New York City.
Orange and Rockland said it had 84,000 customers out in Rockland, Orange and Sullivan counties. New York State Electric and Gas reported at least 52,000 customers with outages, and National Grid reported at least 9,300 customers out.
"I think wind is the biggest factor. The wind makes the trees wobbly and they tumble onto our lines and transformers and equipment," said ConEd spokesman Allan Drury. He said it would take several days for full restoration.
In the Hudson Valley, state police evacuated motorists from numerous vehicles stuck on Interstate 84 and the Taconic Parkway overnight and took them to hotels. Police said about 50 to 75 vehicles were towed away so the highways could be plowed, and owners were being reunited with them Sunday afternoon.
---