St. Louis Cardinals Parade: A plea for Pujols to stay
St. Louis Cardinals parade: Hundreds of thousands of Cardinals fans turned out to honor the 2011 World Series champs in St. Louis. Can the Cardinals afford to keep Albert Pujols?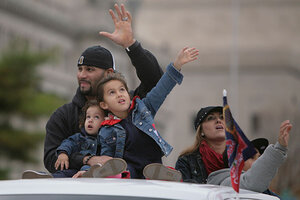 (AP Photo/Jerry Naunheim Jr)
A red sea of fans jammed downtown St. Louis Sunday to honor the World Series champion Cardinals and send a clear message to Albert Pujols: Please stay.
An official crowd estimate was not immediately available for the parade down the streets of St. Louis and the celebration at Busch Stadium, but city officials expected several hundred thousand, and it was clearly that, if not more. The crowd was so large that people were parking more than two miles away, and interstate highways were jammed near downtown.
Pujols drew loud cheers along the parade route and a long standing ovation at the stadium. When asked on the podium if he'd like to be back for another celebration next season, he smiled sheepishly and said, "Hey, why not?"
Whether that happens remains to be seen. After 11 Hall of Fame seasons as a Cardinal, Pujols is a free agent for the first time and it isn't clear if the mid-market Cardinals will be able or willing to give a long-term contract to a player who turns 32 before next season, despite his career .328 average, 455 homers and status as a team icon.
Pujols' pending free agency and a chilly, breezy and overcast afternoon did nothing to dampen the celebratory spirit. People began staking out the good spots many hours before the parade, climbed trees and leaned out office windows for better views. Nearly everyone was dressed in red except for a few in Rams blue who made the short walk from the Edward Jones Dome after the football game. Even the Rams added to the joy of the day, beating New Orleans 31-21 for their first win after an 0-6 start.
---