Halloween faces postponement due to scary weather
Halloween trick-or-treating is in trouble in some parts of New Jersey, New England, and even Miami in the wake of major storms.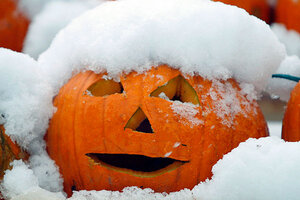 (AP Photo/Robert F. Bukaty)
SOUTH WINDSOR, Conn and Miami
It's not enough that a storm Saturday dumped as much as 30 inches of wet, heavy snow that snapped trees and power lines, and caused widespread power failures in the Northeast. Now, the scary weather threatens to disrupt Halloween trick-or-treating in New England, New Jersey, and even in Miami.
Communities from Maryland to Maine that suffered through a tough winter last year followed by a series of floods and storms went into now-familiar emergency mode as shelters opened, inaccessible roads closed, regional transit was suspended or delayed, and local leaders urged caution.
Trees, branches, and power lines still littered roads and rail lines throughout the region, leading to a tough Monday morning commute for many. Some local officials canceled or postponed Halloween activities, fearful that young trick-or-treaters could wander into areas with downed power lines or trees ready to topple over.
"With so many wires down ... the sidewalks will not be safe for pedestrians (Monday) night," Danbury Mayor Mark Boughton told The Hartford Courant.
City officials in Worcester, Mass., are also asking everyone to postpone Halloween trick or treating until Thursday, reports the Worcester Telegram.
"We need time to clean up and enjoy the trick or treating and all of the festivities knowing that we will be safe," City Manager Michael V. O'Brien said. "We don't want families and children maneuvering around piles of snow and downed trees."
---