Herman Cain offers conflicting responses to sexual harassment allegations
Herman Cain spent Monday trying to put out a fire that started when it was discovered that two previous coworkers had accused him of inappropriate, sexually suggestive behavior.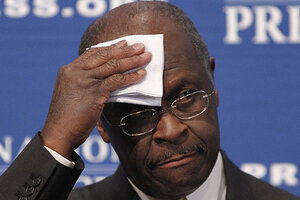 Pablo Martinez Monsivais/AP
It's one of the starkest tests of viability for any presidential candidate: crisis management, the ability to step past an explosive charge and re-direct the news. Republican presidential hopeful Herman Cain, a relative newcomer to national politics, had trouble passing Monday during a whirlwind of speeches and interviews in the shadow of sexual harassment allegations.
"I'll never know why Jesus came to love me so," Cain crooned at the invitation of the event's moderator in closing Monday's National Press Club appearance. "He looked beyond all my faults and saw my needs."
It was a dramatic counterpoint to the rest of Cain's day in Washington, which he largely spent denying that he had sexually harassed anyone and calling any such reports "a witch hunt."
Politico reported Sunday that the National Restaurant Association gave financial settlements to at least two female employees who worked for Cain and had accused him of inappropriate, sexually suggestive behavior when he headed the trade group.
Throughout the day Monday, Cain offered conflicting responses as to whether he remembered the specifics of the allegations or the existence of settlements with the women.
In an interview with The Associated Press, Cain was asked whether he was aware of the women's specific allegations. "Some of them," he responded.
But when pressed, he said was not aware of any of the allegations.
Later, in a series of television interviews, Cain said he remembered some details after all.
The revelations upended Cain's series of speeches and meetings with members of Congress designed to reassure the nation's rule makers that he is ready for public office. But the revelations also raised questions anew about his fitness — and whether he can manage a crisis.
---