Why Herman Cain supporters are sticking with him
In the wake of sexual harassment allegations, why are supporters standing by Herman Cain? Iowa Herman Cain supporters speak out.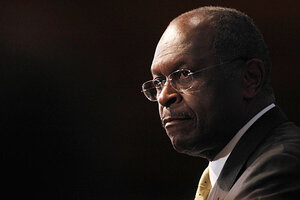 (AP Photo/Pablo Martinez Monsivais, File)
In the last day or so since the Herman Cain sexual harassment allegations broke, it appears Herman Cain's supporters are sticking by their man.
We still think the reported allegations - and Cain's shifting responses - may in the end seriously undercut his core strengths: likability and straight talk. In appearances Monday, Cain went from saying he was "unaware of any sort of settlement" with the women making the allegations against him, to telling Fox News that, in fact, one such cash settlement had been worth "maybe three months' salary," to telling PBS "I was aware that an agreement was reached." (Interestingly, he also told PBS he had "no recollection" of asking either of those women to meet him in a hotel room - rather than denying outright that such a request had been made).
But it's also clear Cain has a few things going for him in all this. As we noted Monday, the accusations so far have been anonymous (and may remain so, since the two women allegedly involved signed non-disclosure agreements, according to POLITICO).
And so far, the conservative base seems to be rallying behind him - treating the matter as an outrageous smear campaign ginned up by a political opponent and/or the liberal media establishment.
---