Exit plan for Joe Paterno at Penn State?
Joe Paterno's 45-year career as head coach of Penn State could end within "days or weeks," according to The New York Times. Paterno has not be charged with any crimes related to the Jerry Sandusky sex abuse allegations.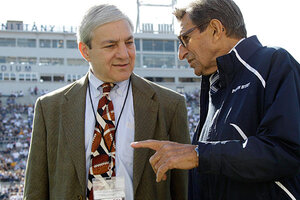 AP Photo/Gene Puskar, File
Pressure mounted on Tuesday on Penn State University football coach Joe Paterno, one of the biggest names in American sports, in a scandal over allegations that a long-time assistant coach sexually abused boys and school officials covered it up.
Paterno, lost his first chance to publicly address questions regarding felony sex crimes against children, allegedly committed by former assistant coach Jerry Sandusky, when a scheduled news conference was abruptly canceled on Tuesday.
The New York Times reported that Paterno's tenure as coach at Penn State could soon end, perhaps within days or weeks, citing two people briefed on conversations among the university's top officials.
RELATED: How well do you know Penn State football?
The Times reported that the board of trustees has yet to determine the precise timing of Paterno's exit but that discussions about how to manage his departure have begun.
Paterno's son said his father has not been asked to leave as head coach. "No one has asked him to step down," Scott Paterno told reporters gathered outside the coach's home near campus.
The university canceled Paterno's scheduled news conference on Tuesday minutes before the the coach, one of the most famous in college football history, was due to face hundreds of reporters in the press room in the bowels of the 106,000-seat Beaver Stadium.
"Due to the ongoing legal circumstances centered around the recent allegations and charges, we have determined that today's press conference cannot be held and will not be rescheduled," the athletics department said in a statement.
---