'Waterboarding is torture,' says Obama
Waterboarding, an interrogation technique that simulates drowning, was endorsed by Republican presidential candidates Herman Cain and Michele Bachmann. 'They're wrong,' said Obama in a press conference. 'Waterboarding is torture.'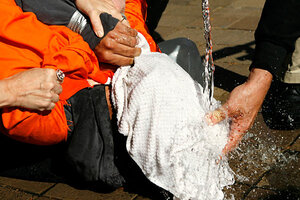 Kevin Lamarque/Reuters/Files
President Barack Obama hit back on Sunday at criticism by Republican presidential candidates of his handling of Iran and other international issues, and said a new Congress may be needed to heal the U.S. economy.
In his home state of Hawaii, the Democratic president appeared to relish the chance to defend and tout his foreign policy record at a news conference wrapping up a summit of Asia-Pacific leaders that he hosted.
Speaking in front of a setting sun over an ocean cove, Obama said his frank and open relationship with China had "yielded considerable benefits" including a united front against Iran's nuclear ambitions.
Asked to respond to Republican candidate Mitt Romney's assertion that Iran would succeed in developing a nuclear weapon if Obama were to be re-elected, the president cited "steady, determined, firm progress in isolating the Iranian regime."
Obama said sanctions he has pushed have had "enormous bite" on Iran's economy and influence, and he stressed that while he preferred a diplomatic resolution to the dispute, no option was off the table.
"Is this an easy issue? No. Anybody who claims it is either politicking or doesn't know what they're talking about," Obama said.
Romney is the current front-runner for the Republican presidential nomination to face Obama in the November 2012 election, when Obama is seeking a second term in office.
Obama was similarly direct in responding to questions about statements by some Republican candidates endorsing waterboarding, an interrogation technique that simulates drowning that Obama ended when he took office.
During a Saturday debate among the Republican presidential candidates in South Carolina, businessman Herman Cain and U.S. congresswoman Michele Bachmann backed the use of waterboarding.
"They're wrong. Waterboarding is torture," Obama said. "Anybody who has actually read about and understands the practice of waterboarding would say that that is torture. And that's not something we do -- period."
---