Zuccotti Park ruling got it right, say experts (VIDEO)
Zuccotti Park has been re-occupied by protestors but was the court's ruling constitutional? Experts say yes.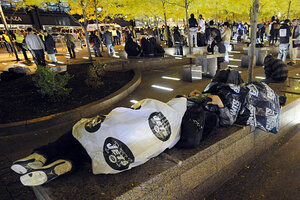 Henny Ray Abrams/AP
The eviction of Occupy Wall Street demonstrators in Manhattan was a dramatic turn in a nearly two-month standoff, inspiring howls of protest from the protesters and their supporters. But New York and other cities that have cracked down appear to have the law — and history — on their side.
A judge upheld New York's decision to clear Zuccotti Park. And even some experts known as supporters of First Amendment rights said the judge had it right.
"The short legal answer to these situations in New York City and other places today is that there are broad rights to protests, to march, to demonstrate and to be heard," said Floyd Abrams, a prominent First Amendment lawyer. "There is no right to occupy a public area on a full-time basis, including housing facilities and sleeping there."
Abrams said the protesters, by successfully bringing public attention to their message of corporate greed and economic inequality, have exercised their First Amendment rights. "What they can't do is go over the line in what is essentially a seizure by them of public property .... with no limitations."
Not everyone agrees. The American Civil Liberties Union has filed lawsuits — and in some instances, won temporary restraining orders — on behalf of Occupy activists in such places as Nashville, Oakland, Calif., and Trenton, N.J.
"There is no such thing as a beginning, middle and end to free speech rights," said ACLU executive director Anthony Romero. "The right ... doesn't toll after a certain time period."
Romero also said it's hypocritical to try to limit the duration of protests "when we celebrate the occupation of Tahrir Square (the site of anti-government protests in Cairo). Certainly no one was citing the Egyptians for their overnight, multi-day protests. We ought not to criticize the Occupy movement for demonstrating their points of view with similar zeal."
---