Ex-Freddie Mac official said Newt Gingrich paid $1.5 million for consulting
The former Speaker of the US House and current GOP presidential candidate defended himself Wednesday after news that he received money from the now-troubled government mortgage giant.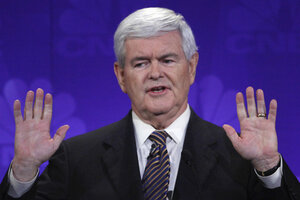 Paul Sancya/AP/File
Rising in national polls, Republican presidential candidate Newt Gingrich found himself on the defensive Wednesday over huge payments he received over the past decade from the federally backed housing agency Freddie Mac.
Gingrich said he didn't remember exactly how much he was paid, but a former Freddie Mac official said it was at least $1.5 million for consulting contracts stretching from 1999 to 2007. The official spoke on condition of anonymity to discuss a personnel matter.
Speaking with reporters in Iowa, Gingrich said he provided "strategic advice for a long period of time" after he resigned as House speaker following his party's losses in the 1998 elections. He defended Freddie Mac's role and said, "every American should be interested in expanding housing opportunities." Long unpopular among Republicans, the federally backed mortgage lender has become a focal point of anti-government sentiment because of the housing crisis.
On Tuesday, a House committee voted to strip top executives of Freddie and its larger competitor, Fannie Mae, of huge salaries and bonuses and put them on the same pay scale as federal employees.
In 2008, Gingrich suggested in a Fox News interview that then-presidential candidate Barack Obama should have to return campaign contributions he had received from executives of Freddie Mac and Fannie Mae. He said that in a debate with Obama, GOP presidential nominee John McCain "should have turned and said, 'Senator Obama, are you prepared to give back all the money that Freddie Mac and Fannie Mae gave you?'"
Gingrich sought Wednesday to portray his role as a sign of valuable experience.
---