White House shooting suspect obsessed with Obama (VIDEO)
White House shooting: Oscar Ortega-Hernandez, arrested for allegedly shooting at a window in the executive mansion at the White House, is believed to have an obsession with President Barack Obama.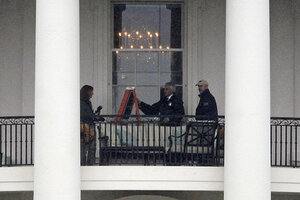 Haraz N. Ghanbari/AP
A man with an apparent obsession with President Barack Obama has been arrested in Pennsylvania after the Secret Service discovered two bullets struck the White House while the president was away, authorities said Wednesday.
One bullet smashed into a window of the living quarters of the executive mansion but was stopped by ballistic glass.
The arrest of Oscar Ramiro Ortega-Hernandez, 21, came days after reports of shots fired on Friday night near the White House while Obama and his wife Michelle were on a trip to California and Hawaii. The president has since traveled on to Australia, second stop on a nine-day Asia-Pacific tour, and the White House had no comment on the unfolding events.
The U.S. Secret Service said it discovered Tuesday that the two bullets hit the White House. U.S. Park Police had earlier linked Ortega, a 21-year-old man from Idaho Falls, Idaho, to the reports of gunfire.
---