Pepper spray explanation doesn't wash with UC Davis students
UC Davis chancellor says she did not order campus police to use pepper spray. Chancellor Linda Katehi told 1,000 students that police were directed not to use force.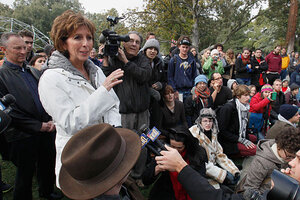 (AP Photo/Rich Pedroncelli)
The chancellor of a US university who has faced widespread criticism following the pepper spraying of peaceful demonstrators has told an assembly of 1,000 students that she had instructed campus police not to use force in breaking up the protest.
Video footage of Lt. John Pike and another officer casually spraying an orange cloud at the protesters as they sat peacefully on the ground began circulating online Friday night. Students gathered on campus Tuesday for the second time in as many days to condemn the violence. They also urged university officials to require police to attend sensitivity training.
University of California, Davis chancellor Linda Katehi, who has faced criticism from students, faculty and staff in recent days, told some 1,000 students gathered in an auditorium that she asked police to remove tents from the university's quad but did not direct them to forcibly remove the demonstrators.
"I explicitly directed the chief of police that violence should be avoided at all costs," she said. "It was the absolute last thing I ever wanted to happen."
She stressed that students have a right to demonstrate peacefully.
"Because encampments have long been prohibited by UC policy, I directed police only to take down the tents," she said. "My instructions were for no arrests and no police force."
Yet not all students who attended the town hall in a performing arts complex were satisfied with the response from Katehi.
---