Arizona plane crash: tragedy on Thanksgiving
An Arizona plane carrying three children on their way home for Thanksgiving crashed leaving no sign of survivors.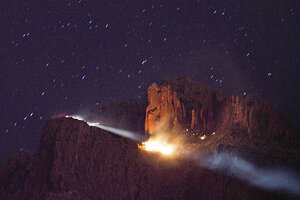 Michael Schennum/The Arizona Republic/AP
A small airplane with three men and three young children onboard crashed Wednesday evening into mile-high mountains east of Phoenix while going around 200 mph, the Pinal County sheriff said.
The body of one child was recovered and "it is not hopeful" there are any survivors because of the nature of the crash and explosion, said Sheriff Paul Babeu.
Ten deputies spent the night on the mountain to keep it secure. They and dozens of volunteers were to start searching the area at first light, he said, adding that hikers and curiosity seekers should stay away. Video from news helicopters Thursday morning showed the crash site in front of a blackened cliff.
Some immediate family members are out of the country, so the names of those involved can't yet be released, Babeu said.
The twin-engine aircraft flew from Safford in southeastern Arizona to Mesa's Falcon Field to pick up three children for the Thanksgiving holiday and was headed back to Safford, Babeu said.
KPNX-TV reported the father of the three children, who are ages 5 to 9, lives in Safford. Their mother lives in Mesa.
"Our hearts go out to her at this time," Babeu said.
The aircraft slammed into an area of rugged peaks and outcroppings in the Superstition Mountains, 40 miles east of downtown Phoenix, at about 6:30 p.m. MST Wednesday, authorities said.
Callers reported hearing an explosion near a peak known as the Flat Iron, close to Lost Dutchman State Park, Sheriff's spokeswoman Angelique Graham said.
Witnesses reported a fireball and an explosion.
"I looked up and saw this fireball and it rose up," Dave Dibble told KPHO-TV. "All of a sudden, boom."
---