Occupy LA eviction put on hold, but for how long?
Occupy LA protestors were supposed to be evicted at midnight Sunday. But Los Angeles police say they may give the Occupy LA camp a short reprieve.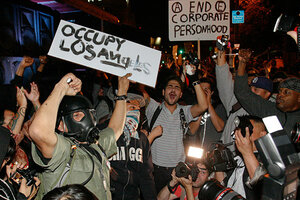 (AP Photo/Jason Redmond)
Police in riot gear began closing in early Monday on some 2,000 anti-Wall Street activists who defied a midnight deadline to vacate an eight-week-old encampment outside Los Angeles City Hall as some protesters blocked traffic.
Mayor Antonio Villaraigosa had given Occupy LA protesters until midnight local time to dismantle their tents, pack up their belongings and clear out of the City Hall park, or face a forcible removal.
But Jim Lafferty, a National Lawyers Guild attorney and leading advocate for protesters in talks with the city, said two hours after the eviction deadline that police had assured him ``there will be no move against this occupation tonight.''
He said he expected police would end up giving Occupy LA a two-day reprieve and that the only demonstrators risking arrest before then were those who remained in the roadway.
A police commander on the scene, Andrew Smith, confirmed the encampment would be allowed to stay put until at least daybreak. But he said protesters who continued to block traffic had until 4:30 a.m. to move or face arrest.
``We have no plan at this time to go into the park and evict people,'' Smith said. ``That could change in the near future, but right now we are hoping to clear the streets, and that'll be the end and people can relax for a little while.''
Clark Davis, an OccupyLA organizer, said to Smith and a group of officers standing by, ``You guys have been fantastic.''
But some protesters expressed suspicion at word of a reprieve, saying it could be a ploy by police to get them to let down their guard.
SUPPORTERS RALLY TO BOLSTER CAMP
---