Hazing may have played role in death at FAMU
Hazing is being blamed for the death of a Florida A&M University student. His family says the school has a culture of hazing.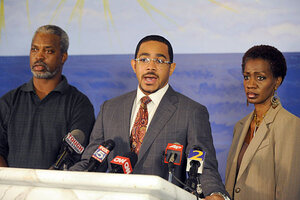 Erik S. Lesser/AP
Robert Champion fell in love with music at about age 6 when he saw a marching band at a parade in downtown Atlanta. So mesmerized by the festivities, he came home, took out pots and pans and started banging away like a little drummer.
His passion led him to marching bands from middle school through college. He was a drum major for the famed Marching 100 band of Florida A&M University, a group that has performed at Super Bowls, the Grammys and presidential inaugurations. The prestige brought along a "culture of hazing" and a secret world that played a role in Champion's death, his family said Monday.
"It needs to stop. The whole purpose is to put this out there and let people know there has to be a change," Champion's mother, Pam, said at a news conference.
On Nov. 19, after the school's football team lost its annual game with rival Bethune-Cookman, Champion collapsed on a bus parked outside an Orlando, Fla., hotel. The 26-year-old junior had been vomiting and complained he couldn't breathe shortly before he became unconscious.
When authorities arrived about 9:45 p.m., Champion was unresponsive. He died at a nearby hospital.
Authorities have not released any more details, except to say hazing played a role. An attorney representing Champion's family also refused to talk specifics.
"We are confident from what we've learned that hazing was a part of his death. We've got to expose this culture and eradicate it," Christopher Chestnut said. "There's a pattern and practice of covering up this culture."
---