Syracuse sex scandal: Head coach Jim Boeheim to break his silence Tuesday
Syracuse University head coach Jim Boeheim is expected to address accusations that his assistant, Bernie Fine, molested three boys.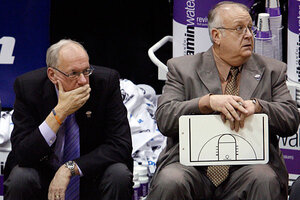 (AP Photo/Steve C. Wilson, File)
The Hall of Fame head coach of Syracuse University's basketball team whose assistant was fired over allegations of sexually molesting boys stayed mum Monday about the growing scandal, but the school said he would speak publicly after a Tuesday game.
Jim Boeheim, whose multimillion-dollar basketball program has been rocked by the accusation against assistant coach Bernie Fine, will hold a news conference after the Tuesday evening home game against Eastern Michigan University, Syracuse's athletic department said.
It was not clear if Boeheim would address the scandal or would stick to discussing the game only.
Fine, who was fired Sunday, is the target of a grand jury investigation into accusations that he molested a former ball boy, Bobby Davis, 39, and at least one other boy, Davis's stepbrother Mike Lang, 45, when they were juveniles.
Pittsburgh police said they would also investigate allegations from a third man, Zach Tomaselli, that Fine tried to fondle him in a hotel in 2002, and were in contact with Syracuse police to gather information about the case. They said they learned of the allegations from media reports.
Fine has called the accusations against him ``patently false in every aspect.''
Fines firing came after ESPN aired an audio recording it said was of a 2002 conversation between Davis and Fine's wife Laurie in which she said she knew about the alleged molestation but felt unable to stop it. The conversation was recorded by Davis without her knowledge, ESPN said.
---