Occupy LA: Police dismantle LA, Philadelphia camps. Is Occupy Boston next?
Occupy LA protestors were arrested Wednesday, and their camp dismantled. Occupy Philadelphia was also peacefully shut down. Will Occupy Boston follow LA and Philly?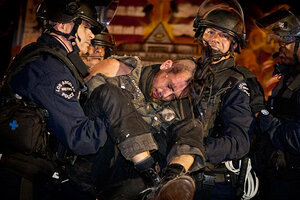 (AP Photo/Bret Hartman)
Police in riot gear and biohazard suits removed anti-Wall Street activists from an encampment outside the Los Angeles City Hall on Wednesday, arresting an estimated 200 people as they enforced the mayor's eviction order.
Busloads of police closed in on the 8-week-old Occupy LA camp after midnight and declared the hundreds of protesters congregated on the lawn, sidewalks and streets around City Hall to be an unlawful assembly, ordering them to disperse or face arrest.
The Los Angeles encampment, which officials had tolerated for weeks even as other cities moved in to clear out similar compounds, was among the largest on the West Coast aligned with a 2-month-old Occupy Wall Street movement against economic inequality and excesses of the U.S. financial system.
IN PICTURES: Occupy LA and other Occupy protests
Mayor Antonio Villaraigosa had originally welcomed the protesters, even supplying them with ponchos for inclement weather. But as city officials complained of crime, sanitation problems and property damage they blamed on the camp, the mayor decided the group had to go.
He initially set an eviction deadline for 12:01 a.m. Monday but city officials held off on enforcing it for 48 hours in the hope that protesters would drift away on their own.
The strategy appeared to pay off, with police avoiding the use of tear gas or pepper spray that marked evictions of Occupy protesters in Oakland and other cities. Except for some minor initial scuffles with police, the crowd was boisterous but mostly peaceful.
---