Mindy McCready refuses to return child against judge's orders
Mindy McCready has refused to return her child to Florida despite a judge's ruling to do so. McCready says the child has suffered abuse by his guardian there.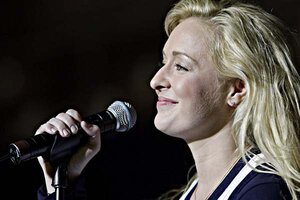 Mark Humphrey/AP/File
Country singer Mindy McCready said Thursday she would not bring her 5-year-old son back from Tennessee to Florida, despite violating a custody arrangement and a judge's order.
McCready took the boy during a recent visit at her father's Florida home, and a judge signed an order Thursday ordering authorities to take the boy into custody and return him. It's not yet clear whether the singer could face criminal charges.
"I'm doing all this to protect Zander, not stay out of trouble," McCreadywrote in an email to The Associated Press on Thursday. "I don't think I should be in trouble for protecting my son in the first place."
McCready says she is in Tennessee and cannot travel because she's nearly seven months pregnant with twins.
The judge's order means law enforcement anywhere can pick up the boy and bring him back to Florida.
McCready and her mother have had a long custody battle over the boy. Until recently, the boy was living with McCready's mother. Her mother was awarded guardianship in 2007. McCready says her son has suffered abuse at her mother's house; her mother, Gayle Inge, denies the abuse allegations.
"Once the child is located, we will pick him up and bring him back to Florida," said Terri Durdaller, a spokeswoman for the Florida Department of Children and Families. "Although these circumstances are unfortunate for a young child, his safety and well-being are our number one priority."
---