Why Mitt Romney is losing the TV campaign ad war, again
Mitt Romney is launching new TV ads in Iowa Friday. But so far Mitt Romney's campaign ads have not been very good, says DCDecoder.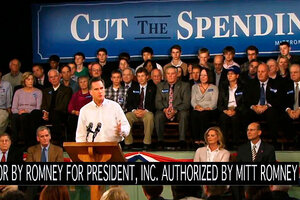 (AP Photo/Romney Presidential Campaign)
With just a little over a month to go before the Iowa caucus, we're starting to see more ads by the GOP candidates. Mitt Romney has recently released two ads in New Hampshire - the first, hitting President Obama on the economy, drew criticism for taking an Obama quote completely out of context. The second is a positive (if somewhat bland) ad about Romney's business experience and the need to cut spending.
This morning, the Associated Press reported that Mitt Romney is launching new ads in Iowa Friday on the economy as well.
Which got us thinking: if there's one thing that seems to encapsulate the problems with Romney's candidacy, it's his ads. They're not bad. They just somehow lack personality - they don't give you any intrinsic sense of who he really is.
This was true for Romney throughout the 2008 cycle. Decoder recently went back and watched a whole bunch of 2007-2008 ads from the Republican candidates, and our main takeaway was this: Romney got creamed in the ad wars.
---