Green Bay Packers stock goes on sale, receives mixed feelings
Green Bay Packers stock went on sale today with the website slowing to a grind as the public logged on to buy shares, but not everyone was enthusiastic about the $250 stocks.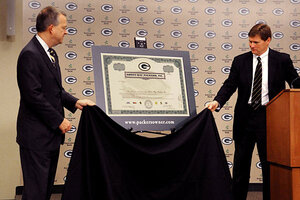 H. Marc Larson/Press-Gazette/AP
The Green Bay Packers have an MVP candidate in quarterback Aaron Rodgers, a Super Bowl championship won just 10 months ago and an undefeated team making a run toward another title for Titletown.
The Packers now have hundreds of new owners, too.
The team kicked off a rare stock sale Tuesday to help pay for another round of renovations at Lambeau Field, giving pretty much anyone a shot at becoming an NFL owner for $250 per share, plus a $25 handling charge.
Sarah Johnson, 34, of Portage, said it took her nearly 20 minutes to complete what should have been a 30-second process, but it was worth to wait.
"I could have just as well thrown my money out the window for what I get for it, other than a feel-good," she said. "I just feel like the Packer organization has sort of a nostalgia and an excitement around it other franchises don't have. Just to say you're part of that on some level is neat to me."
The team received 1,600 orders in the first 11 minutes of the sale, said Packers President Mark Murphy, who had to reassure fans the Packers website was still working. Team spokesman Aaron Popkey said he did not have any sales data as of late Tuesday evening.
"It's just a question of volume," Murphy said. "Fans are excited about this opportunity. We just encourage fans to be patient."
---