Alexander Graham Bell recordings discovered after 130 years
Alexander Graham Bell went on to invent the telephone, but before he did that he experimented with recording devices. The old disks were considered unplayable until new technology gave scientists the chance to listen to the recordings for the first time in 130 years.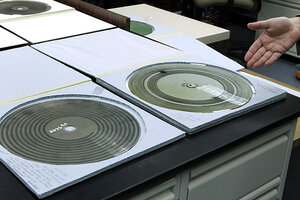 Jose Luis Magana/AP
Alexander Graham Bell foresaw many things, including that people could someday talk over a telephone. But the inventor certainly never could have anticipated that his audio-recording experiments in a Washington, D.C., lab could be recovered 130 years later and played for a gathering of scientists, curators and journalists.
"To be or not to be..." a man's voice can be heard saying in one recording as it was played on a computer at the Library of Congress on Tuesday. The speaker from the 1880s recites a portion of Hamlet's Soliloquy as a green wax disc crackles to life from computer speakers.
The early audio recordings — which revealed recitations of Shakespeare, numbers and other familiar lines — had been packed away and deemed obsolete at the Smithsonian Institution for more than a century. But new technology has allowed them to be recovered and played.
The technology reads the sound from tiny grooves with light and a 3D camera.
The recordings offer a glimpse into the dawn of the information age, when inventors were scrambling to make new discoveries and secure patents for the first telephones and phonographs, even early fiber optics.
A second recording, on a copper negative disc, played back Tuesday reveals a trill of the tongue and someone reciting the numbers 1-2-3-4-5-6.
A third recording catches perhaps the first sound of disappointment as Bell's recording device seemed to hit a technical glitch.
"Mary had a little lamb and its fleece was white as snow," a voice says. "Everywhere that Mary went — Oh no!"
On Nov. 17, 1884, Bell's lab recorded the word "barometer" several times on a glass disc with a beam of light. It and about 200 other experimental records were packed up and given to the Smithsonian, seemingly never to be played again.
---