Rick Perry rebound in Iowa: Assisted by veterans?
Polls show Rick Perry gaining ground and Newt Gingrich weakening in Iowa. Why Rick Perry may be picking up the vet vote.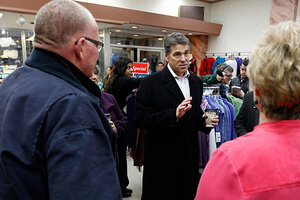 REUTERS/Jeff Haynes
Lots of news stories today about how the race to win Iowa is still wide open. The New York Times' Nate Silver takes a whirl through the polling data and says any of five candidates could plausibly win. And Politico's Maggie Haberman reports that internal poll numbers from the Mitt Romney and Rick Perry camps show Newt Gingrich's lead in Iowa is indeed slipping.
Interestingly, she also quotes a "veteran GOP caucus-watcher" as saying:
"Watch Rick Perry. He's going for a top three finish, and that could be to Romney's expense."
We've found ourselves wondering about Perry, who's kicking off a 42-city Iowa bus tour today. Notably, two recent Iowa polls have shown a slight uptick in Perry's support. In particular, an American Research Group (ARG) poll released yesterday (Tuesday) showed him gaining 8 points (though he's still in fourth place).
What's behind this movement? Clearly, some of it is Gingrich starting to come back to Earth. In the ARG poll, Gingrich was down 5 percentage points from the previous poll - and Perry seemed to be the clear beneficiary.
---