Seychelles becomes site of another US drone crash
Seychelles became the latest foreign country to see a US drone crash. The US Embassy says the drone was unarmed.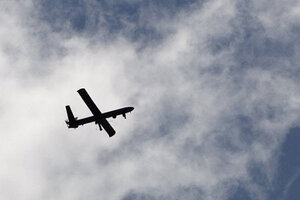 Andy Clark/Reuters
An American military drone which had been used to monitor piracy off the East African coast has crashed at an airport on the island nation of Seychelles during a routine patrol, officials said.
The U.S. Embassy in Mauritius said the unmanned U.S. Air Force MQ-9 Reaper was not armed and that Tuesday's crash caused no injuries. The crash sparked a fire that was quickly extinguished.
Lina Laurence of Seychelles' civilian aviation authority said the drone developed engine problems minutes into its flight and needed to land as soon as possible Tuesday morning.
"But due to its accelerated landing speed, the aircraft was unable to stop before the runway's end," Laurence said.
The embassy's statement said the cause of the crash is being investigated.
"It has been confirmed that this drone was unarmed and its failure was due to mechanical reasons," Laurence said.
The affected runway was closed for about 10 minutes as a "precautionary measure," but was later reopened with no disruption to airport operations, Laurence said.
The U.S. military and the civilian aviation authority of Seychelles have coordinated to remove the debris, officials said.
---