Lori Berenson home for the holidays for the first time in 16 years
Lori Berenson, convicted of terrorism in Peru, arrived home in New York for the first time since 1995. Lori Berenson was accompanied by her 2-year-old son.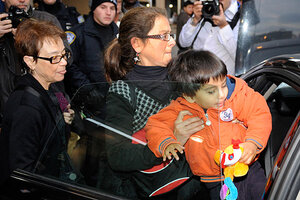 (AP Photo/Henny Ray Abrams)
Paroled American Lori Berenson, who stirred international controversy when she was convicted of aiding Peruvian guerrillas, arrived in the United States on Tuesday morning for her first visit home since Peruvian authorities arrested her in 1995.
The 42-year-old and her 2-year-old son, Salvador Apari, plan to spend the holidays with family in New York. Many in Peru wonder whether she will return to the country by the court-ordered deadline of Jan. 11.
Berenson did not speak to reporters as police at the airport in New Jersey escorted them to a black sedan. The boy looked with wonderment at the reporters and flashing cameras
IN PICTURES: Lori Berenson, and other Americans arrested abroad
"We are looking forward to the first holiday at home in a long, long time, and many relatives who haven't met Salvador are excited to see him," her mother, Rhoda Berenson, said while waiting in the international arrivals area. "This is not a political time; this is a time for family, friends and holidays."
Lori Berenson boarded a flight at Lima's main airport under intense media scrutiny. She told an Associated Press reporter while waiting for her flight that she intended to return to Peru. Berenson was accompanied by a U.S. Embassy employee.
"I just hope we don't get caught in a snow storm," she said, joking that such an occurrence in the U.S. would delay her return.
---