Payroll tax and attack ads latest issues for Romney and Gingrich to lock horns over
A payroll tax extension may be on the way but Republicans like Newt Gingrich insist on a one-year extension. Meanwhile Romney supporters have continued airing ads attacking Gingrich in Iowa. Gingrich tried to take the higher road but Romney says 'if it's too hot for you, get out of the kitchen.'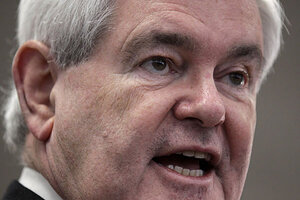 Charlie Riedel/AP
Mitt Romney refused to be pinned down Wednesday on how Congress should break an impasse that threatens to raise taxes for 160 million workers — the latest pressing policy debate the Republican presidential hopeful has sidestepped. Rival Newt Gingrich, in contrast, castigated Congress for "an absurd dereliction of duty."
With less than two weeks before the Iowa caucuses, the two rivals exchanged ever sharper words over a barrage of negative ads coming from Romney's allies as they took a divergent approach on the payroll taxdispute deadlocking Washington.
"I'm not going to get into the back-and-forth on the congressional sausage-making process," Romney, the former Massachusetts governor, said in Keene, N.H., as the day began. "I hope they're able to sit down and work out a solution that works for the American people. My hope is that the solution includes extension of the payroll tax holiday."
But Romney left open the terms for an extension, which is the crux of the stalled debate in Washington. He suggested the extension should last more than two months and ideally a year, but called such details "deep in the weeds."
House Republicans rejected a bipartisan compromise in the Senate that would have kept the tax cuts going for two months, instead calling for talks seeking a one-year extension.
---