Everglades snakes problematic, so non-native species banned
Everglades snakes have been around for a long time. But recently, giant snakes not native to the Everglades have been invading the Florida landmark. Now, these giant snake species have been banned.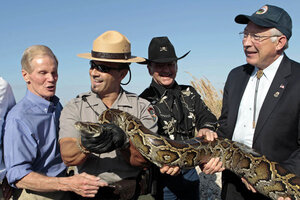 Alan Diaz/AP
Four types of giant snakes that have been plaguing the Everglades are now banned from being imported into the United States or transported across state lines, federal officials announced Tuesday.
Interior Secretary Ken Salazar publicized the new U.S. Fish and Wildlife Service rule during a visit to the Everglades. It applies to the Burmese python, yellow anaconda and the northern and southern African pythons, the four types of massive constrictor snakes that have become increasingly present in the swampland.
The snakes can grow to be 26 feet long and more than 200 pounds and threaten indigenous species. They've been found to kill and swallow animals as large as deer and alligators, and Salazar said they threaten all the work being done to restore the Everglades to its natural ecosystem.
"It does us no good to put in these billion dollars of investment in the Everglades only to have these giant invasive constrictor snakes come in here and undo the good that we are doing," he said.
The rule will be published in the Federal Register in the coming days. It will take effect 60 days later and applies to not only live snakes, but viable eggs, hybrids and gametes, which are the male reproductive cells.
"These giant constrictor snakes do not belong in the Everglades and they do not belong in people's backyards," said Sen. Bill Nelson, a Florida Democrat who has been outspoken on the issue and who appeared with Salazar on Tuesday.
---