Keystone pipeline rejected over politics, say Republicans
Obama says he rejected the Keystone pipeline because mandated deadlines would not allow proper a fair review, but Republicans are accusing him of putting politics ahead of sound policy.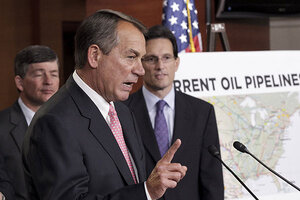 J. Scott Applewhite/AP
President Barack Obama on Wednesday rejected plans for a massive oil pipeline through the heart of the United States, ruling there was not enough time for a fair review before a looming deadline forced on him by Republicans.
His move did not kill the project but could again delay a tough choice for him until after the November elections.
Right away, the implications rippled across the political spectrum, stirred up the presidential campaign and even hardened feelings with Canada, a trusted U.S. ally and neighbor. For a U.S. electorate eager for work, the pipeline has become the very symbol of job creation for Republicans, but Obama says the environment and public safety must still be weighed too.
The plan by Calgary-based TransCanada Corp. would carry tar sands oil from western Canada across a 1,700-mile (2,735-kilometer) pipeline across six U.S. states to Texas refineries.
Obama was already on record as saying no, for now, until his government could review an alternative route that avoided environmentally sensitive areas of Nebraska — a route that still has not been proposed, as the White House emphasizes. But Obama had to take a stand again by Feb. 21 at the latest as part of an unrelated tax deal he cut with Republicans.
---