Five things to watch for in Obama's State of the Union
Former White House speech writers offer pointers to watching President Obama's State of the Union Tuesday night.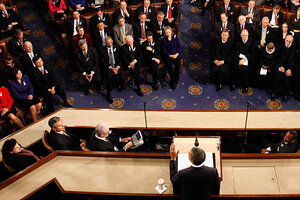 (AP Photo/Evan Vucci, File)
President Obama is offering his fourth third (the first address a new president gives isn't titled the "state of the union") - and, he hopes, not final - State of of the Union address to the nation Tuesday night. Ahead of the annual report on the state of the US (spoiler: We're guessing the answer is "strong"), Decoder dropped by the Bipartisan Policy Center for a talk with four former White House speechwriters to get their thoughts on what to look for tonight.
Here are their five things to watch.
1. Burn the straw men.
John McConnell, a writer for President George W. Bush, told a story related to him by the late great speechwriter Bill Safire, who could not get Richard Nixon to stop saying some variation of "while some of those close to me have urged me to take the easy way, I have opted for…" before continuing on to what he wanted to do.
Unfortunately, Safire noted, nobody was advising the president to take the easy way. As such, Safire would sometimes walk past the closed door to the Oval Office and whisper "take the easy way, Mr. President."
Obama, McConnell advised, should "avoid strawmen… If you're contradicting a counter argument, make it a real counter argument."
---