Tiger Woods struggles on greens at Abu Dhabi Championship
Tiger Woods shot a 70 in the first round at Abu Dhabi. Woods hit the ball well but struggled to sink puts. Rory McIlroy shot a 67 and is tied for the lead.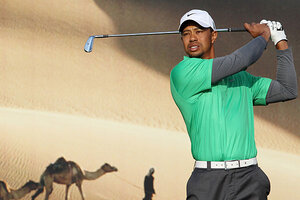 REUTERS/Joseph J. Capellan
Rory McIlroy shrugged off a misfiring driver to outscore playing partners Tiger Woods and Luke Donald in the Abu Dhabi Championship first round on Thursday.
World No. 3 McIlroy may have had his problems on the tee but on the green he devoured most of the birdie chances that came his way to join Swede Robert Karlsson in the early lead on five-under-par 67.
The 22-year-old Briton began his round at the 10th and quickly left world No. 1 Donald (71) and 14-times major winner Woods (70) trailing in his wake by grabbing a hat-trick of birdies from the 11th.
IN PICTURES: Tiger Woods through the years
McIlroy's charge slowed when he bogeyed the 14th and 17th but four birdies in the closing 10 holes put the smile back on his fresh-faced features.
"I didn't feel like I drove the ball particularly well," the U.S. Open champion told Sky Sports. "I didn't hit it in the fairway enough.
"The club is coming down to the ball differently to the way it normally does for me so I'm just finding it difficult to trust myself to release the driver.
"That's something I'm going to have to work on this afternoon on the practice range. I'm going to need to hit the ball in the fairway a lot more tomorrow and over the next three days."
McIlroy has finished fifth, third and third here in his last three visits and is hoping to break Martin Kaymer's winning sequence, the German having lifted the prized Falcon Trophy in 2008, 2010 and 2011.
"I feel like this course suits me really well," said the Northern Irishman. "There's just one problem - it suits Martin Kaymer even better."
---