Monster snowstorm buries Colorado, closing parts of I-70 and I-25
Colorado is facing what could be one of the10 biggest snowstorms to hit the state. Already parts of I-70 and 1-25 have been closed. Blizzard warnings are in effect through Saturday.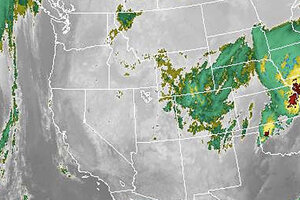 NOAA
A powerful winter storm swept across Colorado on Friday, forcing the state Department of Transportation to close portions of Interstate 70 and Interstate 25. The National Weather Service said snow was falling at 2 inches an hour on the Eastern Plains.
Transportation spokeswoman Becky Navarro said Friday eastbound I-70 was closed from Aurora to Limon and a ramp has been closed on Interstate 25 in Denver because of numerous accidents.
"There are a lot of areas on the Front Range where there is very poor visibility," she said.
The largest snow total Friday morning was 18 inches in Pinecliff west of Denver.
IN PICTURES: Going Nowhere in a Storm
Jim Kalina of the National Weather Service said another foot of snow was expected in some areas along the Front Range before the storm moves out on Saturday. A blizzard warning was issued through Saturday for northeastern Colorado where sustained winds of up to 30 mph could bring visibility to zero and make travel all but impossible.
Cities in the Front Range urban corridor from Colorado Springs in the south to Fort Collins and Greeley in the north were under a winter storm warning.
The storm warnings prompted shoppers to stock up on food and liquor, while Colorado lawmakers canceled legislative work on Friday.
---