Peyton Manning cleared to play, but will he play for Colts?
Peyton Manning: The Indianapolis Colts' star quarterback was given clearance to play by his surgeon. But Colts owner Jim Irsay tweeted Peyton Manning hasn't been cleared by the team doctor.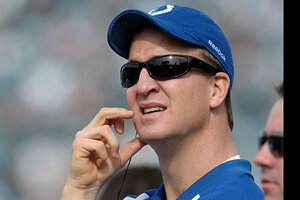 (AP Photo/Phelan M. Ebenhack, File)
Peyton Manning is cleared to play football. Still not so clear is whether it will be with the Indianapolis Colts.
He got the good news Thursday while little brother Eli was making final preparations to lead the New York Giants against the New England Patriots in Sunday's Super Bowl — something big brother always aims for.
Maybe there's even a Manning vs. Manning Super Bowl in the offing.
RECOMMENDED: How well do you know the Super Bowl? Take our quiz
What remains unsettled, though, is Peyton's status with the Colts and whether he and team owner Jim Irsay can patch up their very public spat.
At least it's a possibility now that Manning's surgeon has given the star quarterback clearance to start taking hits again.
"Peyton Manning underwent a thorough medical re-evaluation as part of a postoperative visit with his surgeon," Dr. Robert Watkins said in a statement. "As a result of this examination, Manning is medically cleared to play professional football."
Colts owner Jim Irsay responded to Watkins' statement by writing on Twitter that Manning has not been cleared to play by the team because he has not passed its physical. He said the club would issue a statement later Friday.
---