Occupy evictions include Pittsburgh, Miami and Portland, Maine
Occupy evictions have been occurring with some frequency over the past few months. A camp in Portland, Maine is one of the most recent among Occupy evictions.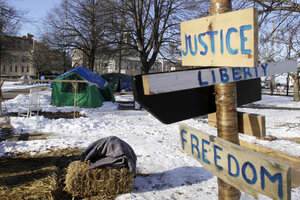 Pat Wellenbach/AP
A tent city that's among the longest-lived Occupy protest encampments is coming down as part of a new wave of eviction orders against demonstrators aligned with the movement in communities including Miami, Washington and Pittsburgh.
Occupy Maine demonstrators removed several large tents over the weekend, and the city on Monday gave them additional time to remove the rest.
Demonstrators who established the encampment just two weeks after the Occupy Wall Street encampment set up shop in New York City vowed to continue their work to call attention to corporate excess and economic inequality.
"Just because the occupation is changing form doesn't mean it's going away," Heather Curtis, one of the campers, said Monday before she started hauling away her belongings from snow-covered Lincoln Park.
The encampments that were the heart of the movement are becoming scarcer. On Monday, a judge issued what appeared to be the final notice for Occupy Pittsburgh to leave. Over the past week, police began removing demonstrators in Miami; Austin, Texas; and Washington, D.C.
The voices are still making themselves heard, though.
On Monday, about 20 demonstrators disrupted a legislative budget hearing in Albany, N.Y., shouting that millionaires should be taxed more. Albany's camp was busted up in December.
---