Newark Muslims hold protest rally over NYPD spy operation
Newark Muslims plan to rally Friday in protest of a 2007 NYPD spying operation targeting Muslim groups in Newark, N.J. Mayor Bloomberg says the operation was 'constitutional.'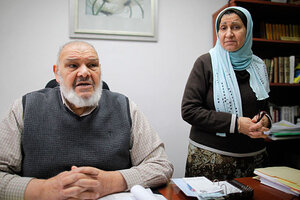 (AP Photo/Charles Dharapak)
New York Mayor Michael Bloomberg says a secret 2007 New York Police Department operation monitoring Muslims was "legal," ''appropriate" and "constitutional." Bloomberg addressed the issue at length Friday on his weekly radio show on WOR-AM.
Officials in three states have traded accusations over who knew what about the secret 2007 NYPD operation. The NYPD monitored and catalogued Muslim neighborhoods throughout Newark, New Jersey's largest city.
Meanwhile, supporters of the Newark mosque plan to rally in support of its congregants Friday. The Masjid Omar in Paterson was identified as a target for surveillance in a 2006 NYPD report uncovered by The Associated Press.
RELATED: How well do you know the US Constitution? Take the quiz
Leaders from several New Jersey-based Muslim organizations are also planning a press conference Friday at Rutgers University in Newark.
And a coalition of Muslim organizations and their supporters have sent letters to New Jersey Gov. Chris Christie and the state attorney general asking for an investigation into the extent of the NYPD's surveillance of Muslims in New Jersey.
---