Chardon High School shooting: Second victim dies early Tuesday
Chardon High School: A second shooting victim has been declared dead, following a deadly attack by a student Monday. Three other students were wounded at Chardon High School, outside Cleveland, Ohio.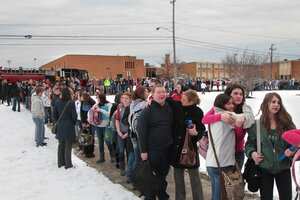 Thomas Ondrey/The Plain Dealer/AP
A student wounded in a deadly school shooting has been declared dead, authorities said Tuesday, a day after one student was killed and three others injured when teenager opened fire in the cafeteria at a suburban Cleveland high school.
The Cuyahoga County Medical Examiner's Office received the word about Russell King Jr. just before 1 a.m. Tuesday, office administrator Hugh Shannon said in a statement. It was unclear whether King remained on life support; the statement referred to him as deceased.
"The cause and manner of death of this case are under on-going investigation and will be released upon completion," Shannon said in a statement. A spokeswoman at MetroHealth System said Tuesday morning that no information on his condition was available.
King, 17, was one of five students injured when a suspect identified by a family lawyer as T.J. Lane began shooting at Chardon High School Monday morning. King was studying alternative energy at nearby Auburn Career Center and like the others who were shot was waiting for a bus for his daily 15-minute ride to the center. Student Daniel Parmertor died hours after the shooting.
A student who saw the attack up close said it appeared that the gunman targeted a group of students sitting together and that the one who was killed was gunned down while trying to duck under the cafeteria table.
Lane's family is mourning "this terrible loss for their community," attorney Robert Farnacci said in a statement.
---