Jason Varitek says tearful goodbye to Red Sox
Jason Varitek officially announced his retirement with his wife and children by his side, Thursday.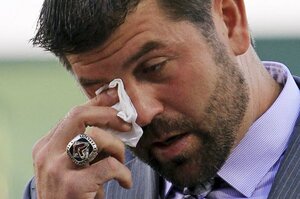 Alan Diaz/AP
Jason Varitek spent 15 seasons as the stoic center of the Boston Red Sox, with an icy stare that never blinked and an iron jaw that never quivered.
The toughness and tenacity that defined his career and galvanized the Red Sox back to the top of the baseball world finally gave way on Thursday night, when the Captain bid farewell.
With his wife and three daughters by his side, and his parents and dozens of teammates watching from just a few feet away, an emotional Varitek officially announced his retirement.
"My teammates," Varitek said, his voice shaking and his eyes welling, are "what I'm going to miss most. The hardest thing to do is to walk away from your teammates and what they've meant to you over the years."
If Dustin Pedroia is the heart of the Red Sox and David Ortiz is the soul, Varitek was the steel spine that held everything together.
He caught four no-hitters, played in three All-Star games, won two championship rings and had one memorable run-in with Yankees star Alex Rodriguez that will endear him to Boston sports fans forever.
"You have not only been our captain, you have been our rock," Red Sox chairman Tom Werner said. "You have personified the rugged, aggressive, fiercely competitive style of play that has characterized our club during your tenure."
---