Obama's mesage to Israel and Iran: 'I don't bluff'
President Obama meets with Israel's prime minister Monday and will warn Israel not to unilaterally attack Iran. He also told the Atlantic magazine it was "unacceptable" for Iran to have a nuclear weapon.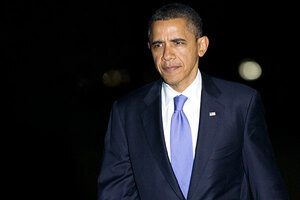 (AP Photo/Pablo Martinez Monsivais)
President Barack Obama warned that he is not bluffing about attacking Iran if it builds a nuclear weapon, but in an interview published Friday, Obama also warned US ally Israel that a premature attack on Iran would do more harm than good.
In his most expansive remarks on the issue thus far, Obama told The Atlantic magazine that Iran and Israel both understand that "a military component" is among a mix of many options for dealing with Iran, along with sanctions and diplomacy. That is the most direct threat he has issued during months of escalating tension with Iran over its disputed nuclear development program.
His comments appeared aimed more at Israel and its supporters in the United States than at Iran. Obama addresses the influential American Israel Public Affairs Committee on Sunday and meets with Israeli Prime Minister Benjamin Netanyahu Monday at the White House. Netanyahu will also address AIPAC.
IN PICTURES: Iran's military might
"I think that the Israeli government recognizes that, as president of the United States, I don't bluff," he said in the interview. "I also don't, as a matter of sound policy, go around advertising exactly what our intentions are. But (both) governments recognize that when the United States says it is unacceptable for Iran to have a nuclear weapon, we mean what we say."
---