After 53 days in Nevada desert, dog reunited with owner
Barbara Bagley's Shetland sheepdog, Dooley, survived by eating road kill for 53 days in Nevada after a car accident. The dog is now part of his owner's healing process.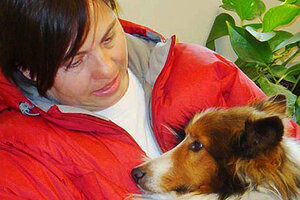 (AP Photo/Shannon Sustacha)
Barbara Bagley says she never gave up hope that her dog would be found alive in the Nevada desert after the animal bolted from the scene of a crash that critically injured her and killed her husband.
But the Salt Lake City woman endured plenty of frustration until her beloved 4-year-old Shetland sheepdog, Dooley, was tracked down Feb. 18 after surviving 53 days in the wild on roadkill and scattered ranch water sources.
"I would think about Dooley constantly," she said. "There were TV commercials with dogs that made me think about him and cry. He's just the sweetest dog."
The Dec. 27 single-vehicle accident on Interstate 80 near Battle Mountain, about 225 miles (360 kilometers) east of Reno, sent Bagley and her 55-year-old husband, Brad Vom Baur, to the hospital in critical condition. Their other sheltie, Delaney, was killed in the wreck. Dooley ran away and vanished.
As soon as she had recovered enough from her injuries, Bagley turned her attention to a search for her dog in the sprawling sage-covered plains and hills of northeastern Nevada.
Realizing what Dooley could mean for her recovery, dozens of Nevada volunteers responded to a Facebook plea for help in looking for him. But the search was canceled before it began after the Jan. 6 discovery of what appeared to be the dog's remains along the interstate. The same day, her husband died.
"It was a horrible day for me," Bagley recalled. "But something inside me told me Dooley was still alive out there. I wasn't 100 percent sure, but I didn't grieve for Dooley like I did for my husband and our other dog."
---