Ex-LAPD detective guilty in 1980s murder
Former detective Stephanie Lazarus was convicted of the 1986 murder of her ex-boyfriend's wife.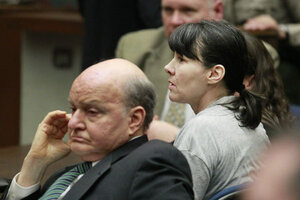 Brian van der Brug/AP/Pool
A quarter century after a woman's murder, jurors took little more than a day to decide Thursday the killer was a former Los Angeles police detective who was finally unmasked by her DNA and history of obsessive love for her victim's husband.
Stephanie Lazarus was impassive as she heard the first-degree murder verdict. Her long-ago lover, John Ruetten, watched grimly in the courtroom with the family of his slain wife.
Lazarus, 51, was linked to the case by a cold case team examining DNA swabs taken from a bite mark on the arm of victim Sherri Rasmussen.
Police Chief Charlie Beck, who had worked closely with Lazarus in the LAPD, apologized to the Rasmussen family for the long delay in closing the case.
"I am truly sorry for the loss of your wife, of your daughter. I am also sorry it took us so long to solve this case and bring a measure of justice to this tragedy," he said in a written statement.
"This case was a tragedy on every level," he added. "The LAPD family felt a sense of betrayal to have an officer commit such a terrible crime."
Los Angeles County District Attorney Steve Cooley was in court for the verdict and said later the case demonstrated the importance of DNA as an investigative tool.
"Had it not been for DNA the case might never have been solved," he said.
---